Home
News update:
Subscribe to IMD News Letter in-order to receive monthly special offers and information on your skin.
IMD Laser Clinic will send out to the subscribers once a month a special offer which you can claim by responding according to the guidelines in the letter.
Services described as below will be offered:
Laser Hair Removal
Vein Therapy
Wax Services
Microdermabrasion
Electrolysis
Chemical Peel
Skin Photo Rejuvenation
Facials
Botox Injections
Quit Smoking
Laser Pain Relief
Laser Weight Loss
Laser Hair Growth
Wound healing
Jose Bautista
Jose Bautista, along with girlfriend Neisha Croyle, are welcomed by staff as the newest clients at IMD Laser Clinic. The couple's decision to choose IMD as their trusted clinic is very much appreciated and valued within our community. José Antonio Bautista is a professional rightfielder with the Toronto Blue Jays. He is known as a "utility player", which is one that can play several positions. For Jose, this includes an outfielder, infielder, and third baseman. Has won the "Silver Slugger Award" and the "MLB Awards – Hank Aaron Award" in 2010 and 2011.
Edwin Elpidio Encarnacion
We would like to welcome Edwin Elpidio Encarnacion, player on the TORONTO BLUE JAYS, as a new member at the IMD Laser Clinic. This third basemen and designated hitter joins us alongside his brother, Julio Encarnacion, as valued and cherished clients. The choice to select IMD as their trusted clinic is appreciated and we look forward to ensuring that your experience with us is professional, effective, and enjoyable.
Leslie Woodyatt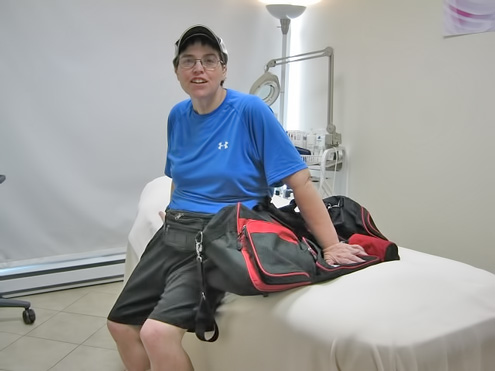 Leslie Woodyatt is the proud recipient of the Special Olympics Ontario Female Athlete of the year award for 2011. As a new member at the IMD clinic, Leslie is being considered for this award at the national level in 2012. We wish Leslie luck in her future goals of becoming Canada's Female Athlete of the year and guarantee her the best possible care as a member of the community here at IMD.
Relax and Rejuvenate
We at IMD Laser Clinic pride ourselves in delivering quality results in helping you to achieve your desired goals for the mind, body, and spirit. Our state-of-the-art laser and skin renewal facility has the ability to allow you to come in to rejuvenate, repair, and rejoice in the beauty of your own skin. Forget the traffic, the office politics, the daily grind, and immerse yourself in the luxurious decadence of IMD Laser Hair Removal Toronto Cosmetic Clinic.
IMD Laser Clinic is a medical facility with experienced and educated staff delivering quality results since 1981. Our treatments are effective, our products are natural, and our friendly environment is inviting. We use only the most advanced and safest laser aesthetics systems to treat patients. Each treatment is specifically designed for every patient according to skin type, comfort level, and prior history. IMD Laser Clinic has an impeccable track record of customer satisfaction as we take time to understand ever clients' needs and concerns.
Conveniently located in upper town Toronto, we offer:
Laser hair removal & Elos hair removal
Skin resurfacing and rejuvenation
Treatment of wrinkles, scars and brown spots
Spider veins of the face and legs
Solutions for wound healing
Smoking cessation
Weight control
Pain management
Microdermabrasion, chemical peels
Lip enhancements
Anti-aging procedures
Specials
Are you a new client?

For new clients, we offer FREE skin and vein analysis, and FREE trial session.
Are you an existing client?

We have monthly specials to rejuvenate your skin from sun damage, dark spots, red spots, freckles, and hair removal treatments. We also encourage you to select from our cosmetic, laser, and therapeutic laser treatment sessions. Please call for this month's special!
Parking is always FREE at our Yonge and Eglinton location
Please feel free to bring family and friends for a new client free trial session.
Quality treatments are within your reach
Choose a safe and reliable clinic with the highest standards of service that provides quality results that you can see and feel.
If you are considering a non-surgical cosmetic treatment, there are a number of questions you should ask to help you to decide whether a treatment is right for you.
BOOK A COMPLIMENTARY CONSULATION now to speak to our skilled and certified staff!